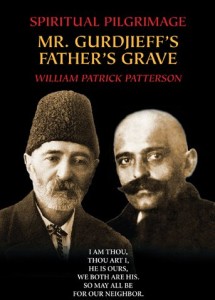 By William Patrick Patterson
DVD, color, 1 hour 7 minutes
Owing to the circumstances of my life not dependent on me, I have not personally seen the grave where the body of my dear father lies. . . . I therefore, bid any of my sons, whether by blood or in spirit, to seek out, when he has the possibility, this solitary grave.
—G. I. Gurdjieff
Meetings with Remarkable Men
William Patrick Patterson undertook a 21-day pilgrimage to visit Mr. Gurdjieff's father's grave in Gyumri, Armenia. Travelling backward in time, he revisited Gurdjieff's life:
Gurdjieff's grave and the Prieuré in Avon, France
Kumbaraci and Yemenici streets in Istanbul, where Gurdjieff and his students lived
Prinkipo Island on the Sea of Marmara, where Gurdjieff often visited P. D. Uspenskii
Tiflis, where Gurdjieff opened his Institute at 22 Nikolas Street and first named it the Institute for the Harmonious Development of Man
Kars, Gurdjieff's home in the medieval quarter and the Kars Military Cathedral where he sang in the choir
Ani, the ancient city where the Sarmoung manuscript was discovered
Sanahin Monastery, Armenia, where Gurdjieff served as an acolyte
Gyumri, Armenia, where Gurdjieff was born in the Greek Quarter at 222 Matnishyan Street
Gyumri's Old Cemetery and Mr. Gurdjieff's father's grave