Not a book but a feature length DVD/film project, Spiritual Pilgrimage: Mr. Gurdjieff's Father's Grave by William Patrick Patterson is a profoundly evocative journey through the geography of Gurdjieff's amazing life, but also into his inner landscape.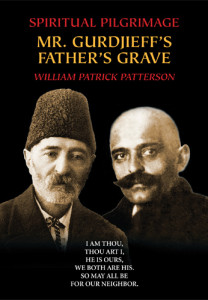 Gurdjieff was about finding and living a vow—one's sacred obligation. His intended purpose was to merge the teachings of East and West and to bring them to modernity, and to account for the "sense and significance of organic life, and human life in particular." He sought to use the scientific "methods" of the west to elucidate and crystallize the mysteries of the east. And he paid a heavy price.
In his own book, Meetings with Remarkable Men, Gurdjieff wrote: "Owing to the circumstances of my life not dependent on me, I have not personally seen the grave where the body of my dear father lies….I therefore, bid any of my sons, whether by blood or in spirit, to seek out, when he has the possibility, this solitary grave."
So that William Patrick Patterson's DVD follows his 21-day pilgrimage to visit Mr. Gurdjieff's father's grave in Gyumri, Armenia. Travelling backward in time, he revisited Gurdjieff's life and, without "spoiling" the climax, he honors and restores the grave site of Gurdjieff's father.
In this way Patterson demonstrates a deeply held conviction and dedication not only to his teacher, and fellow pupils, but he actually weaves a thread that modern seekers and students can follow to get a taste of traditions and ways of being that are threatened with extinction. The film covers:
Gurdjieff's grave and the Prieuré in Avon, France
Kumbaraci and Yemenici streets in Istanbul, where Gurdjieff and his students lived
Prinkipo Island on the Sea of Marmara, where Gurdjieff often visited P. D. Uspenskii (Ouspensky)
Tiflis, where Gurdjieff opened his Institute at 22 Nikolas Street and first named it the Institute for the Harmonious Development of Man
Kars, Gurdjieff's home in the medieval quarter and the Kars Military Cathedral where he sang in the choir
Ani, the ancient city where the Sarmoung manuscript was discovered
Sanahin Monastery, Armenia, where Gurdjieff served as an acolyte
Gyumri, Armenia, where Gurdjieff was born in the Greek Quarter at 222 Matnishyan Street
Gyumri's Old Cemetery and Mr. Gurdjieff's father's grave
This DVD is not a light and "positive" story; rather it is a heartfelt and deeply passionate tribute to an entire career and teaching, undertaken as lived experience. Watching it provides a brief and tiny glimmer into a sense of tradition, honour, and sacred obligation that is difficult to find in modern times.
—Tom Bunzel, Collective Evolution