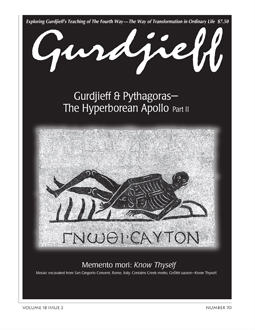 The Gurdjieff Journal #70 Volume 18 Issue 2 is now available. Articles are as follows.
Gurdjieff & Pythagoras—The Hyperborean Apollo Part II
The Gurdjieff Journal—70 Issues New
Probe: Subject Determines the Object, Unless…
Poems of…
Golden Verses of Pythagoras
Letters
Sayings of Substance
Kultur
For more information visit The Gurdjieff Legacy Foundation.