Introduction to Gurdjieff's Fourth Way Vol. 3:
What Is the Meaning of Human Life on the Planet Earth?
By William Patrick Patterson
DVD, color, 3 hours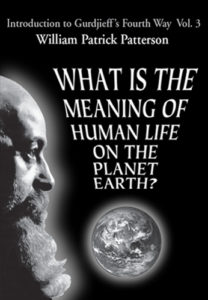 Filmed during a weekend seminar with William Patrick Patterson exploring in depth Gurdjieff's question of "What is the sense and significance of life on Earth and human life, in particular?" the Dialogue sessions probe the primary purpose of organic life on Earth, the receiving, processing and transmitting of energies, the developing and undeveloped image of God, vibratory electrical beings, societal beliefs of having an indivisible I and a soul, the "I"-of-the-moment, Adam's power to name animals, perfectly imperfect, living one's suffered truth, conscious egotist, Kesdjan body, esoteric Christianity, a Christianity before Christ, religion as wholeness, the teaching of our time, Consciousness without objects.