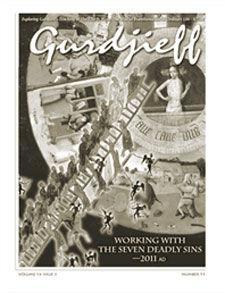 The new issue of The Gurdjieff Journal is available. Here is a listing of articles pertinent to our times.
Working with the Seven Deadly Sins—2011 AD
J. G. Bennett & the Inner Barrier  Part II
Sri Aurobindo—The Man & His Teachings  Part II
In Search of the Soul  Part XIII: Sikhism
The Art of Love by Margaret Anderson  Part II
Poem: Returning
Frank Lloyd Wright Comes to Dinner
For more information visit Gurdjieff Legacy.